September – November 2022
Congratulations to our PhD candidate Mariana Fonseca (Supervisors: Drs. Javier Sanchez & Luke Heider)!
Mariana has been representing CVER extremely well!
She was selected as one of two graduate students to represent AVC at the annual meeting of The Canadian Emerging Veterinary Scholars Summit (CEVSS) sponsored by Merck Animal Health.
The annual forum took place at the University of Calgary from November 3rd to November 5th and provides an excellent opportunity for networking and sharing knowledge among young scientists. Mariana was awarded as the 2nd best presentation for her work on the use of antimicrobials and their association with resistance in Escherichia coli recovered from fecal samples from Canadian dairy herds.
In addition, Mariana won third place at the UPEI Graduate Studies Research Conference, that took place at UPEI on October 13th and 14th. Her presentation was on the "Risk factors for the isolation of and resistance to ciprofloxacin and tetracycline in Campylobacter spp. recovered from fecal samples from Canadian dairy herds: A cross-sectional study."
Congratulations to Rasaq Ojasanya who has successfully defended his MSc Examinations;

Supervisor: Krishna Thakur

Welcome to new epidemiology graduate students Ahsan Raquib, Sumit Jyoti and Paul Tonita

Supervisor: Krishna Thakur

Welcome to visiting graduate students Sitang Arkanit and Tran Nam Khang, who are supported by Global Affairs Canada's Canada-Asean Scholarships and Educational Exchanges for Development (SEED)program. Sitang and Tran Nam will be taking courses and working on their research projects during their stay at UPEI.

Local supervisor: Krishna Thakur
Sitang Arkanit is from the Kasetsart University in Thailand

Tran Nam Khang is from the University of Science and Technology of Ha Noi in Vietnam
---
July – August 2022
ISVEE 16 Post-Conference Workshop
The 5-day course, "Questionnaire Design and Measurement Scales", from August 14 – 18, was instructed by Drs. Ian Dohoo (AVC) and Marika Wenemark (Linköping University, Sweden). The course had both in-class at AVC and online participation. Twenty-four participants were from Australia, Africa, USA and across Canada.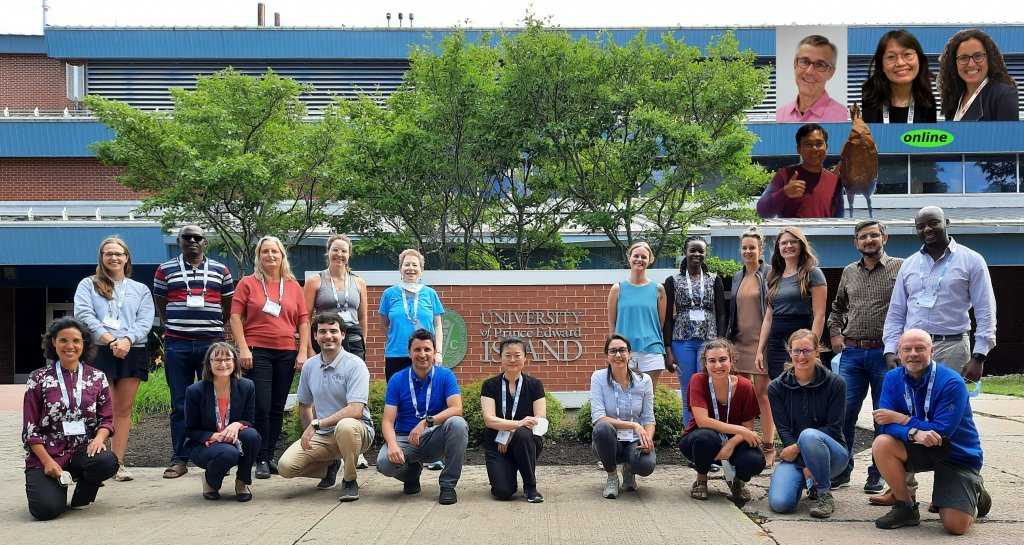 Congratulations to João Romero who has successfully defended his PhD Examinations;

Supervisors: Ian Gardner and Krishna Thakur
---
April – May 2022
Introduction to Multilevel Modelling
The 10-day course usually offered as part of the Epi on the Island summer school was this year instead run from May 9 – 20 in a hybrid format. There were 22 participants: 8 participants from the AVC and 14 external participants from the other Canadian veterinary colleges. Drs. Henrik Stryhn and Ian Dohoo were the course instructors.
Congratulations to Svenja Kopper for successfully passing the comprehensive exams for her PhD program;

Supervisors: Krishna Thakur and Crawford Revie

Congratulations to Landon M. Warder for successfully passing the comprehensive exams for his PhD program;

Supervisors: Javier Sanchez and Luke Heider
---
January – March 2022
A belated welcome to Dr. Kristen Reynolds as a postdoctoral fellow in aquatic epidemiology. Kristen started her position with CVER in April 2021. She has been working remotely in Halifax with Drs. Sonja Saksida and J. McClure to investigate the antibiotic use in salmon aquaculture, as well as the gut microbiome of farmed salmon. Kristen was a 2013 DVM graduate of the Ontario Veterinary College with a prior MSc in epidemiology. Following several years as a practicing veterinarian, Kristen completed a DVSc in population medicine, specializing in epidemiology, pharmacokinetics and pain behaviour research in swine.
Dr. Jason Stull appointed to the inaugural Associate Editor Board for the American Journal of Veterinary Research (AJVR).
The AJVR is a peer-reviewed scientific journal published by the American Veterinary Medical Association. The board of AJVR will be responsible for reviewing submitted manuscripts, overseeing peer review, advising on journal policy and scope, attracting new authors and submissions, and promoting the journals to their peers. Dr. Stull's three-year appointment is effective January 2022.
Welcome to the new epidemiology graduate student Lauren MacNeil:

Lauren's supervisors are Drs. Javier Sanchez and Luke Heider

Welcome to the visiting graduate student Tita Phiriyaphokhai from the Faculty of Veterinary Medicine at the Kasetsart University in Thailand. Her research focuses on "Population Dynamics of Free-roaming Dogs in Kasetsart University Kamphaeng Saen Campus."

Tita's supervisor at the Kasetsart University is Dr. Kansuda Leelahapongsathon; her local supervisor is Dr. Javier Sanchez.
---
Visit all of our news from 2008 – 2015 at: CVER News Archive